— 2017
USER EXPERIENCE CONSULTANT AT MEDIBLE DIGITAL BOUTIQUE
Strategic design for governmental, financial and basic services
ROLE
At Medible I was able to mix my analytic and conceptual abilities applied to strategic design and to digital products. Here I participated in qualitative and quantitative studies in order to reveal needs, expectations and behaviors of the users. I combined the results of these studies with the business contexts in order to create digital experiences that resonates with users needs and measurable experiences for the client. I also designed interaction flows, scenarios and interfaces that communicate the strategic vision of the business.
ACTIVITIES
- Digital strategy
- Heuristic analysis, benchmark, user testing, in-depth interviews
- Customer journeys
- Information Architecture: interaction maps and flows
- Visual design: art direction and interface design
- Project coordination
- Interactive prototypes
RECOMMENDATION
"Maria Paz is a dedicated designer with a broad strategic vision. Trough the many projects she participated in, she demonstrated an in-depth understanding of research techniques and transformed her findings into relevant design decisions. As a product designer, she was able to lead processes and people to challenge paradigms and propose elegant and efficient solutions. To sum up, I would say design (in all its depth) is a natural thing for her."
Carlos Gaona, Co-Founder of Medible


ABOUT MEDIBLE DIGITAL BOUTIQUEMedible is a user experience design consultancy. It advocates its efforts to discover business opportunities to improve the experience of the customers and monetize the client's channels in a measurable way.
Website redesign proposal for Chilquinta, the main light provider company in the 5th Region of Valparaiso, Chile
Cord analysis and similarity matrix done in Optimalworkshop for Principal Financial group design and content strategy consultancy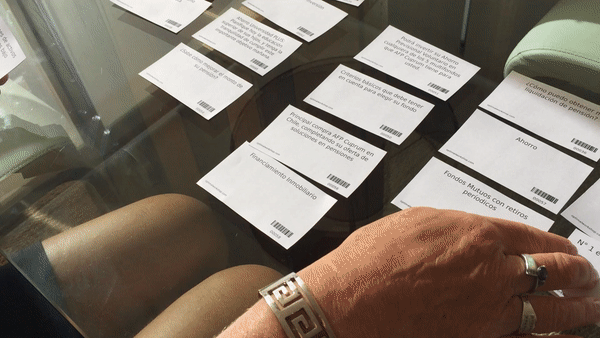 High fidelity wireframe for commercial campaigns interaction flows for Itau Bank

High fidelity Wireframe for skyairlne local airline website redesign project.